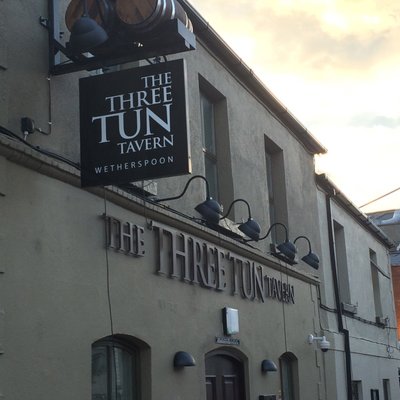 Guinness-free (not free Guinness)
JD Wetherspoons is opening its first pub in the Irish Republic next Tuesday: the Three Tun Tavern in Blackrock, County Dublin. Because of a dispute between Diageo, owners of the Guinness brand, and Wetherspoons over price, they will not be selling Guinness, but will stock Murphy's and Beamish instead at €3.95 (£3.15) a pint.
"We like to sell our drink to customers at a certain price and the price that Diageo wanted us to sell the product at was too high," a spokesman for the pub company said this week. The wording here is significant, as it makes clear that Diageo wanted to dictate the price charged by JDW (so much for the free market economy that's supposed to benefit us consumers). I suppose that if you do have such a massive market share with almost monopolistic powers to dictate prices, you don't want one pub to sell sell your product significantly cheaper in case customers begin to question your profit margins everywhere else. Diageo claims its pricing is competitive, but its actions with JDW suggest that it is anything but. They duck out of further explanation by citing commercial confidentiality, the usual method of closing down discussion.
Other Diageo brands the Three Tun Tavern will not be selling include Smirnoff vodka, Bushmills whiskey and Baileys Irish cream liqueur, but it will stock craft beers from Eight Degrees Brewing, including Howling Gale, Knockmealdown Porter and Barefoot Bohemian Pilsner. Cask will be represented by two Adnams beers, Hobgoblin and a guest ale from local Irish brewers. The presence of Tetley Smoothflow, also at €3.95 a pint, is puzzling.
As usual, JDW has linked the pub to local history by reviving the name of a former eighteenth century tavern which had been "kept by one Bishop, a worthy host and was renowned for its good cheer" and, according to the Irish Times, by including "a reading room, with 'panelled ceiling and vintage books dedicated to Blackrock's most famous author James Joyce.'"
I've read several reports about how shocking the lack of Guinness will be to the average Irish drinker, and while I understand the predominance of Guinness in the Irish beer market (one third of all pints sold), I can't help wondering whether there is a bit of stereotyping going on there. JDW has a further site lined up in Cork and is seeking others: will Diageo change its mind as Spoons expands, or will Irish drinkers anxious for a reasonably-priced pint simply find that they can do without Guinness? I'm rather hoping for the latter.
Having just posted this, I've noticed that Curmudgeon has written on the same subject, but with quite a different approach.